Our Environmental Commitment
Gold Member of Green Ride Global
Monitoring Our Emissions to Help Protect Our Environment
Our company is an environmental leader in the chauffeured ground transportation industry. As a Gold Member of Green Ride Global (GRG), we have committed to GHG emissions reductions from all areas of our business operations.
In efforts to reduce our environmental impact, CLS Global joined Green Ride Global in May 2013. By carefully tracking and monitoring our emissions, we aim to reduce our carbon emissions by 20% below our baseline emissions by the year 2016. We value our customers and the environment. Our goal is to provide our customers with great quality service while protecting the environment
Our Environmental Program consist of the Following:
A comprehensive environmental policy that identifies and addresses the reduction of potential environmental impacts from all areas of business operations
Environmental Management System
Fleet greenhouse gas (GHG) Inventory
Ongoing measurement and monitoring of fleet GHG emissions
Transition to the latest low-carbon vehicles and fuels
Ongoing monitoring and enforcement of GHG emissions reductions including a responsible driving practice across the entire fleet
Greening of the supply chain
Fleet GHG emissions reporting
Capacity to provide Greenhouse Gas Emissions Reports for any corporate travel manager or meeting planner
Are Your Suppliers Environmentally Accountable for Their Carbon Footprint?
A ground transportation supplier who is environmentally accountable for their carbon footprint continuously measures and monitors their GHG emissions and disposes results through regular, third-party environmental reports to stakeholders and diets. Through the company's independent third-party relationship with Green Ride Global, we are held environmentally accountable. We issue environmental reports documenting the carbon footprint from fleet operations.
Carbon Footprint Reporting Capabilities
We have the ability to provide our clients with trip specific GHG emissions reporting of ground transportation use for meetings, events, conferences, and airport transfers. At no cost, emissions reports meet the requirements of Fortune 500 companies who track and manage their supply chain GHG emissions.
Protocols and Standards
Green Ride Global ensures that our Carbon Accounting procedures follow the emissions factors used by the United Nations Intergovernmental Panel on Climate Change (IPCC). Our environmental measurements follow the ISO 14064 GHG Measurement Standards, and the principles and protocols of the World Business Council for Sustainable Development (WBCSD) and the World Resources Institute (WRI).
The carbon footprint of our fleet operations is tracked and audited by Green Ride Global. With fleet being the largest part of a transportation company's carbon footprint, various internal and external initiatives are taken to reduce the GHG emissions produced by our fleet of vehicles. These initiatives include, but are not limited to, providing access and exclusivity to the latest hybrid vehicles, transitioning to alternative fuels, implementing responsible driving practices, and maximizing vehicle fleet efficiency. Green Ride Global issues environmental sustainability reports to us, which measure and compare our overall GHG emissions reductions against our annual emissions reductions targets.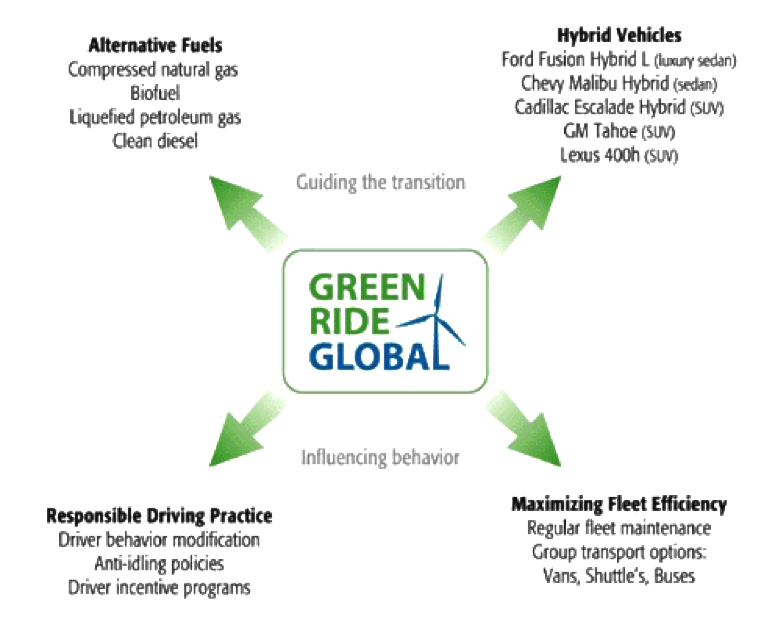 Get in Touch
TEXT or CALL: 650.460.8778
Offices in:
San Francisco
San Jose
East Bay